The power of the CISO community in securing our future
Cyber security is more than a technical discipline. As an industry, we are making significant progress in opening up discussion and encouraging positive changes to culture, leadership and board-level influence on our profession.
In the last year, we've seen an increase to the threat landscape as a result of COVID-19. Nearly two-thirds (65%) of IT decision makers reported that the number of cyberattacks experienced by their organisation has increased as a result of the pandemic, according to a recent Telstra report in conjunction with Vanson Bourne.
This demonstrates just how important those working at the coal face of security leadership are to keeping us safe. And that's one of the main reasons why ClubCISO exists.
Shaping the future of the industry
This week we announced that our new ClubCISO chair Stephen Khan will be carrying on the brilliant work of Dr Jessica Barker. Under Jessica's leadership, the ClubCISO community has grown considerably and made significant progress towards positive changes across security culture, and the power of community and togetherness.
As Head of Technology and Cyber Security Risk at HSBC Group and current chair of the White Hat Ball, Stephen brings many years of experience in information and security.
He embodies the values of ClubCISO – for CISOs, by CISOs, and will continue to build an open, supportive community culture that aims to make an impact by working and learning together.
Reflecting on his appointment, Stephen recently commented, "With today's changing threat landscape and the digitisation of workplaces, the truth is we must work and learn together.
"We must understand what success looks like and how we can make an impact without feeling unnecessary and damaging stress. This is why open, supportive and independent CISO communities such as ClubCISO are so important."
Embracing the value of community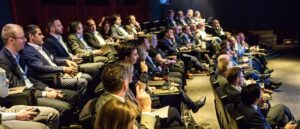 Powered by Telstra Purple, ClubCISO is a global private members forum for information security leaders in public and private sector organisations, working together to help shape the future of our profession.
We are a non-commercial organisation that has seen a significant organic growth of 56 percent in the past year – reaching more than 500 members globally. This growth signifies the importance of building our community, and each other, up so that the industry is stronger and the world more secure.
Our members help to define, support and promote the critical role and value of information security leaders in business and society as the industry moves forward. They actively collaborate to overcome industry-related challenges, and through this learning process, develop best-practice solutions that champion positive change. We've had members tell us "I just wish I had come across this earlier!"
In fact, our last ClubCISO Annual Information Security Maturity Survey found that more than 60 per cent of respondents report to be at best practice or making good progress when it comes to delivering improvements to security culture within their organisations.
As a CISO community, we will continue to work closely together, challenge the status quo, set benchmarks and move the industry forward. Together, we are shaping the future of the industry.
To become a ClubCISO member, click here.

Author –  Manoj Bhatt, Head of Cyber Security Consulting and Advisory at Telstra Purple and ClubCISO Advisory Board Member