New chair appointed at ClubCISO as the community grows to over 500 CISOs and security leaders internationally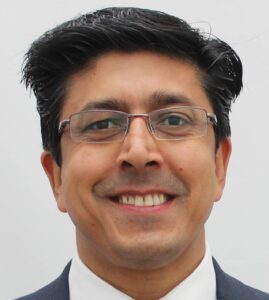 HSBC's Stephen Khan will build on ClubCISOs leadership in security culture, leadership and managing stress in the profession 
London, 29 March 2021 – ClubCISO, the international community of Chief Information Security Officers and security leaders today announced that it is appointing a new Chair. Stephen Khan, Head of Technology and Cyber Security Risk at HSBC Group Information Security Risk and current chair of White Hat Ball, takes over from Dr Jessica Barker. Barker served as ClubCISO chair for two years, but will remain on the community's advisory board.
Khan's appointment comes after a year where the ClubCISO community has grown by 56%, now representing 520 CISOs and security leaders from UK, European and international businesses. ClubCISO is a non-commercial organisation, governed by CISOs for CISOs, and is powered by Telstra Purple, a global professional and managed services business.
Under Barker's leadership, the ClubCISO community has challenged the notion that cyber is a purely technical discipline. The community has made significant progress in opening up discussion and encouraging positive changes to culture, leadership and board-level influence on the profession. As the latest ClubCISO Annual Survey* shows, 60% of CISOs surveyed say they have delivered significant improvements in security culture in the past year. But there is more to be done, especially in the increased stress members are experiencing.
On the hand over from Barker, Khan said: "We are already seeing that security culture remains right at the top of CISO priorities for the year ahead, so I'm taking over as chair at a point where Jess has already changed hearts and minds about what the security function really entails.
"As chair of ClubCISO, I hope to bring a security practitioner's experience to bear on the development of the CISO role. I have lived information and cyber security roles for many years and in many different guises. And, let us be honest, every CISO role has a different set of challenges as not all organisations are the same.
"With today's changing threat landscape and the digitisation of workplaces, the truth is we must work and learn together. We must understand what success looks like and how we can make an impact without feeling unnecessary and damaging stress. This is why open, supportive and independent CISO communities such as ClubCISO are so important."
Barker commented: "I have loved my time as chair and am proud that we are leading the way as a community of real CISOs with real opportunities and challenges to deal with. Stephen is going to be a brilliant chair to continue our leadership on these hugely important topics.
"We are already seeing from the preliminary findings from the 2021 ClubCISO Annual Survey* that stress is affecting CISO and team performance, and that stress is increasing in intensity year on year. Personal resilience is a key skill we all have to harness, and the ClubCISO app, events and discussion forums are proving a very effective way for CISOs to share with their peers. We must continue to lead the debate and help our members to support one another."
ClubCISO is an organic community, which means members actively swap thoughts on immediate and long-term challenges and best practice in a safe and open environment. Members learn together and push the CISO role forwards.
Manoj Bhatt, Head of Cyber Security Consulting and Advisory at Telstra Purple, and an Advisory Board member of ClubCISO, explained: "ClubCISO fixes real problems for real people. It is not an academic community or a training body. Our members are right at the coal face of security leadership.
"ClubCISO has the opportunity to become the one-stop shop for CISOs internationally. We don't only invest in CISOs as individuals, but we also give them the opportunity to give them better intelligence, better access to thought leadership and a truly international network of best practice to draw on."
"The next step for ClubCISO is in empowering the community by asking what they want to see from the group. After all, it's all about how the members shape the industry. We have something really special here and want to make sure the CISOs remain at the heart of it."
In the future, ClubCISO plans to continue our growth and impact as a community by focusing on building strong, valuable peer-to-peer relationships at a local and global level. ClubCISO will also provide insights, content and events where we can debate the future of the CISO role and provide members with useful and practical insights.
Khan concluded:"My vision is to further understand and professionalise the CISO role and security function. And where better to do it than in ClubCISO?"
*The final result of the 2021 ClubCISO Annual Survey of more that 150 security leaders will be published in April. For more information email: team@clubciso.org
About ClubCISO
ClubCISO is a global private members forum for information security leaders, working in public and private sector organisations. We are a community of peers, working together to help shape the future of the profession. We are a non-commercial organisation with over 500 members helping to define, support and promote the critical role and value of information security leaders in business and society. ClubCISO provides a forum in which security leaders can build their network, be involved in proactive discussion, solve problems and create practical guidance that moves the industry forward.ClubCISO is powered by Telstra Purple
About Telstra Purple
Telstra Purple is an International technology services business, bringing together Telstra Enterprise's business technology services capabilities and a number of its acquired companies, focused on outcome-based, transformative tech solutions. The company's broad capability consists of over 1,500 certified experts in network, security, cloud, collaboration, mobility, software, data and analytics, and design. Diverse by design, its differences bring a radically open-minded approach to every idea, process and solution.